If you follow a Gluten-Free diet, I suggest you high-tail it in the other direction right away. Just hit that little X in the corner screen, and QUICK! 'Cause this is gonna be a doozey.

Today, I'm going to share with you the BEST EVER sandwich loaf. But don't let the name fool you. This bread makes excellent toast, croutons, and breadcrumbs as well! You can also bake it outside the loaf pan to form a baguette, boule, or simple homemade dinner rolls! By substituting whole wheat or white wheat for some of the flour, you can make this bread a bit healthier too. I have tried a combination of flours and oils in this recipe, which I'll include in the baker's notes below!
Bake-Your-Own Sandwich Loaf
You need:
1 1/3 cup filtered water
1/3 cup oil (grapeseed or coconut; see notes below)
4 cups organic flour (white, whole wheat, or white wheat; see notes)
2 tbs vital wheat gluten
2 tbs + 2 tsp organic brown sugar
2 tsp sea salt
3 tsp dry active yeast
Makes two regular sandwich style loaves.
I use a bread machine to mix my dough, but you could easily use a stand mixer or do it by hand! Just make sure it's mixed well and kneaded a few times. Let rest for about an hour or until doubled in size. Punch the dough and knead again, briefly. Now sprinkle some flour on a clean, flat surface and get to work! Roll the dough into a long oval shape. Then, roll it up into itself and pinch the ends closed. Yes, I just said to pinch your loaf. LOL! (Robin, that one's for you!

)
After the pinching process, place your dough in a bread pan. Let rise again until the top is about half the height (above the pan) you want for your end result. After it rises, place into an oven pre-heated to 350 degrees Fahrenheit. Bake for 30-35 minutes, until the top is a deep brown.
Allow to cool about 10 minutes before removing from the pan. Otherwise, you'll risk the bottom of the bread getting soggy. Now, let cool on a baker's rack or parchment paper. (I usually lay mine on it's side until the bottom is cooled down.) Now, you can slice and enjoy! Like I said, this bread makes amazing sandwiches and the absolute best Texas toast!! YUM!!!
Baker's Notes:
As far as oils go, I recommend organic grapeseed or unrefined coconut oil. The grapeseed seems to yield a higher-risen, lighter bread. Albeit, a bit crummy (literally!). I tried coconut oil in the solid form and melted. In the solid form the bread is very dense, yet still soft. It won't rise quite as high as the melted coconut or grapeseed loaves. My personal preference is melted coconut, though I use grapeseed often out of convenience.
Thus far, I've tried a few combinations of flours. Generally, I use all organic, unbleached white flour. Sometimes, I like to mix it up and throw in half whole wheat or white wheat. The whole wheat will of course be more dense and hardy. I don't recommend doing the entire loaf with whole wheat. White wheat would be an acceptable substitute though, as it is not as robust as 100% whole wheat. Feel free to adapt as needed and please let me know how it goes!!
To make your loaves extra special, I recommend sprinkling the dough with herbs before rolling it up and placing in the pan. I like to use oregano, basil, and garlic & onion powders, but I'm sure rosemary and thyme would be equally delicious! Have fun! (This step also makes lovely little swirls once the bread is baked. Truly artisan loaves!!)
Make this dessert bread by buttering the dough and sprinkling with cinnamon and sugar before rolling up and baking. Just do it, and thank me later!
Have fun and enjoy! Namaste!!!
*This post was shared on Frugal Days, Sustainable Ways & Wildcrafting Wednesday!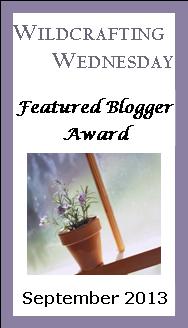 ---
40 Responses to "Bake-Your-Own Sandwich Loaf"